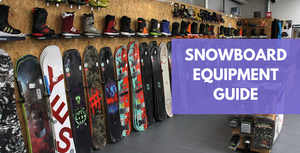 Snowboard Equipment Guide | Your Connection To The Snow
The snowboard equipment you choose can make or break your experience on the mountain. It's your connection to the snow! If your snowboard equipment is poorly sized, too old or worn down, it can dramatically affect your performance and comfort on snow. Snowboard equipment has evolved radically since the sport started in the 1960s due to continuous improvements in technology for cushioning, comfort, response, support and performance.
A Guide To Snowboard Equipment
If you are upgrading or buying snowboard equipment for the first time, consider these points on your boards, boots and bindings.
Snowboards
Freestyle boards tend to be shorter, lighter and softer for use in the park. Makes jibbing around, butters and tricks easier. Usually true twin tip shape, with equal distance between the nose and tail.
All mountain boards tend to be a little stiffer and longer to ride and be stable in all types of terrain. Usually a directional shape, so longer in the nose than the tail.
Powder boards have longer noses with the stance set back towards a short tail. This offers extra float in powder. You don't want this to be the only board you have. Not as versatile in a variety of conditions like other types.
Traditional Camber
This profile has the board arched in the middle.
You can see it by laying the board flat on the snow. The tip and tail will be in contact with the snow and the middle of the board will be raised off the snow.
This shape can produce a lot of edge hold, stability, performance and power.
As you apply pressure / weight to the camber, the shape will depress and deform.
As you release the pressure and energy, the board will want to snap back to its normal shape, producing rebound / pop.
Can be less forgiving and feel stiffer compared to other profiles. Also, easier to catch an edge.
Rocker or Reverse Camber
Instead of a convex shape like camber, the middle of the base is concave, shaped like a spoon.
The tip and tail will be raised up and the middle in contact with the snow if the board is lying flat.
Tend to be softer and easier to turn.
This shape can make it really easy to practise pressing, buttering, and flatland tricks.
Helps to float well in powder as the shape stops the nose sinking.
Can be more unstable at high speeds and wash out of turns.
Different shaped boards are used for different types and styles of riding
Multi / Hybrid Camber
There are various options now for boards that feature the benefits of both styles of camber that enables versatility in your riding.
They have a loose skate feel due to the rocker which also helps float in powder.
With some camber, you get increased edge hold and pop. Not as much stability as a full camber board, however, you get the best of both worlds.
Flat / Zero Camber 
Offers an alternative to camber or rocker. This shape is supposed to provide the benefits of both.
Most often used in park boards because they are excellent for rails due to the smooth flat contact point between your board and the metal.
Can feel like they have dead spots and provide lack of performance compared to camber boards.
Not as easy to generate rebound and pop.
Stiff boards will allow the rider stability at higher speeds and effortless carving. Can be loaded with more pressure for greater rebound and performance. Harder to do jibbing and freestyle on.
Soft boards at higher speeds can feel unstable and bumpy. The go-to choice for jibbing and freestyle due to the softer, more forgiving flex that makes the board easy to manipulate.
Longitudinal and Torsional are the two ways a board will flex. Longitudinal deals with flex from the tip to tail. Torsional flex is across the width of the board. The scale for flex usually goes from 1 to 10 and will be detailed on the board packaging.
For beginners, shorter boards with a forgiving and soft flex are generally preferred. Boards made from companies like Battalion feature a triple base which acts as a spoon to reduce the possibility of catching edges.
You will have more fun and improve faster with the correct snowboard equipment for your body and style of riding
Length - Distance from tip to tail.
If you are standing with the upright board in front of you, the tip of the board should be just underneath your nose.
Taller people should have longer boards for added stability.
Shorter people should have smaller boards more suited to manoeuvrability.
You usually want a shorter board for jibbing and freestyle.
Width - the measure of the board from edge to edge.
It affects how quickly and easily the board can be transferred from edge to edge during a turn.
Wider boards will need more time.
Most boards will come in standard or wide width.
If you have big feet get a wide board to minimise toe / heel overhang.
The width of the board tends to increase with the size.
Foot size will affect the width of snowboard you choose. You want to minimise toe or heel overhang. This is when your toes and heels will hang over the edge of the board. When leaning and bending through turns this can create problems with catching and dragging toes and heels in the snow.
Weight will determine the size and flex of the board you need. With a larger mass, you will tend to want a stiffer board that can handle the extra force that will be going through it. All modern boards will have a recommended weight to size ratio.
Boots
Correctly fitted boots are an essential piece of snowboard equipment that will help you feel comfortable and enjoy your day riding. Boots can be an underestimated piece of equipment. Be sure to save some of your budget for them. There's nothing worse than having sore feet out on the slopes!
Soft flexing boots provide a lot of comfort and mobility through the ankle. Consequently, softer boots are not as responsive and supportive at higher speeds or when trying to generate performance.
Stiff flexing boots offer more response and precision, however, they can reduce mobility in the ankle. They tend to be suited towards a heavier or more experienced rider that knows how to manage pressure and forces through the board.
Pack out - Snowboard boots will pack out and become bigger after a couple of on snow sessions. They should fit fairly snug with your toes kissing the end of the toe cap at first. Always buy your boots at least a half size to full size smaller than your normal shoe size because you will be left disappointed due to money wasted. If you buy boots to your exact size, you will be left with them feeling sloppy and your feet swimming around.
Heel Hold is crucial for control especially on the toe edge and when riding bumps. When the knees and ankles are flexed the heel should remain in place and not lift inside the boot. If you feel your heel lifting and swimming around in the back of the boot, try some thicker socks or its time for a replacement pair of boots! Fit can vary immensely between brands. Try as many brands as possible to find one that suits your foot shape.
Custom SIDAS Conformable Insoles
SIDAS footbeds use thermoforming technology to make insoles that are totally customisable to the shape your foot. They are a game-changing piece of snowboard equipment and well worth the expense. The ergonomic design gives optimal support to the arch of the foot. It angles the ankle, knee and hip joint for a stronger, more natural stance. Offer the feet extra stability and comfort, to decrease and prevent pain in the: foot, knee, heel, ankle and back. Supreme cushioning and support, lessens arch cramping on long days of riding and eases heavy landings from jumps.
Traditional laces
Easy to use and a perfect way to customise tightness by hand.
A little more time consuming to get your boots on.
Can need retied at lunch break or multiple times throughout the day to keep the desired tightness and fit.
Pulling laces can be harsh on the hands and cause chapping due to the cold and wet conditions. Be sure to moisturise!
Speed Lacing / Quick-Pull 
M

uch quicker and easier to use than traditional laces.
Most boots offer options to tighten the top of the foot, ankle and lower leg separately.
Speed lacing systems can vary vastly from brand to brand.
BOA
Uses adjustable dial attached to a cable that runs throughout the boot.
The dial adjusts the tension in the cable to achieve the desired tightness.
Easy to use and adjust with gloves on.
Many boots now feature multiple BOA dials to gives 2 or 3 areas of customisation.
The inner boot provides support, cushioning and stability to the feet and ankles. As well as protection and insulation from the elements. Most liners are removable, meaning you can take them out for quick drying. More expensive boots will have higher quality liners and offer superior comfort.
Bindings
Strap
bindings
Have two straps that go over the toes and ankles to lock the foot in place.
They use a ratchet system to secure the boot.
Tend to offer a more secure and responsive feel. Should be snug and tight, not cutting off the circulation to your foot.
Flow bindings

Offer an easy alternative to ratchet straps. These are for you if you love to make a quick get away from the lift and don't like strapping in and out after every run.
Step in, pull up the highback, no toe or heel strap ratcheting needed.
Flows can reduce mobility through the ankle due to the large pad over the top of the foot and also tend to be less responsive than straps.
Softer bindings are more forgiving and comfortable. Especially useful for freestyle as it allows extra ability to tweak grabs and softer landings.
Stiffer bindings can be more responsive and offer greater energy transfer to the board. Suited to steep and deep, riding fast and hard.
The vertical piece of plastic or carbon extending from the heel cup of the binding to the calf. Boot rests against them to aid heel edge performance.
Tall and stiff come higher up the calf. Designed for added control and stability at speed.
Short and soft are more forgiving so suited better towards use for freestyle and beginners.
Connect the board to your feet through the binding. Higher-end bindings specifically use more efficient and stronger materials, designed to boost energy transfer from your body and feet to board. Additionally, they aim to increase board flex and feel.
Cushioning in baseplates on higher end bindings will help to cut out vibration in the lower body to reduce fatigue.
Canting in bindings will tilt the footbed to adjust the foot, ankle and knee position to a more neutral and natural stance.
If you upgrade or try new snowboard equipment it can be an eye-opening experience. With so many solutions now available, there is no need to spend a day on the slopes frustrated or in discomfort. Most shops offer the ability to demo snowboard equipment before you buy it. Try lots and start to develop a preference for what you like to ride. Swapping boards with friends for a run or two is an excellent way to sample a lot of different styles of snowboard equipment.
---