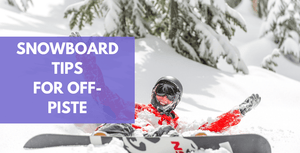 Snowboard Tips for Bumps and Moguls
🚨 Do you get bucked around 🐎 in bumps? 🚨

Loose, relaxed ankles and riding on a flat base are the keys 🔑 to easily flowing 🌊 down moguls and bumps. In the picture below, notice the flat base and low edge angle.
The ankles are the most forgotten about body part in snowboarding 🤔
Bring awareness 🔬 to your ankles and they will help you slay 🗡 bumps, moguls and trees 🏔🌲

When ripping groomers and carving it is useful to be stiff in the ankles. You can really lean and bend in turns to get the board on a high edge angle 🏂

However, in bumps, trees and choppy terrain we need to have adaptability and be soft and mobile in the ankle joints 🦄

Riding on an edge in bumps makes it hard to balance and adapt to the terrain under your feet 🤕
You have a very narrow base of support ❌ You are trying to balance on a knife-edge in choppy terrain 🔪
Make it easier to balance ⚖ and move by having a wider base of support 👌 = Relax your ankles so that the board is on a flat base instead of an edge ✅ you will be able to easily absorb and flow over the bumps 🔥

💥 W&R Pro Tip 💥
When you are stiff/engaged in the ankles, your legs will be bending and extending to absorb the terrain through the knee and hip joints.
Relax your ankles to give yourself 3 sets of joints to manage the terrain instead of 2.
You will feel more stable 💪 and gain a greater range of movement in the lower body ↕️
---