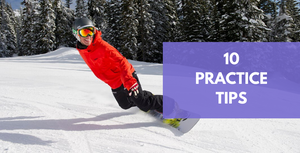 10 Tips For Practising Virtual Snowboard Lessons
These 10 tips will help you have a successful session when practising the snowboard lessons from the Virtual Snowboard School. Practice makes progress and when you focus on improving and refining technique you will be able to ride the whole mountain and dominate any run.
10 Tips Explored In The Video Below:
Warm-up
Stay safe
Minimal traffic on runs
1 How To
Terrain
Emotions
Visual feedback
Conditions
New Runs
Switch
Focused Practice + Mileage Out On The Slopes = Super Snowboard Skills
Use repetition when practising the online snowboard lessons to become more confident and fearless while riding!
Education off-snow combined with focused practice and mileage using the online snowboard lessons is the best way to improve your skills.
Repetition Is Key When Practising Virtual Snowboard Lessons
Watch and Ride's proven system "The 5 How To's of Snowboarding" make your improvement journey easy and fast. Start off with all the novice-green lessons and once they have been mastered move onto the intermediate-blue lessons and then the advanced-black lessons. Practice each lesson, again and again, to build and refine technique.
Without practice, if you find yourself in a stressful snowboarding situation you can revert back to old bad habits. By practising the lessons with your lead foot and in switch you will develop new feelings and progress with some great new habits on your snowboard.
---